Nitinol Foams for Shock Mitigation


The foam responds to stresses via a fast-acting (speed of sound) phase transformation, which converts the shock into heat. The main characteristics of the foam are:

Multi-hit performance,
With careful selection of foam porosity, can attenuate shock frequencies below 10 KHz,
Fast resets (<25 microseconds), allowing for secondary and tertiary shocks to be absorbed as well,
Structural, supports large loads,
Environmentally inert, can be placed in aggressive service environments.
Nitinol Foam Impact Accelerometer Testing
This testing looks at both the total impulse transmitted into a 300 lb Aluminum block and looks at the shock spectrum.
The total G forces were compared to standard materials:

Stainless Steel 2200 g
Steel: 2200g
Cu: 1400g
Al: 1400g
TiNi foam: 350g
Al Foam (Cymat): 350g

The TiNi foam was also multi-hit, and worked equally well dry or saturated with water.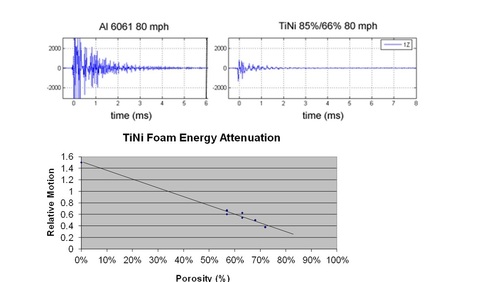 The accelerometer readings demonstrate the dramatic reduction in shock energy when comparable Al6061 plate is replaced by a Nitinol foam plate of differing porosities.


The total energy absorption was correlated to the movement of the large, suspended Aluminum block As the porosity increases, more energy is absorbed in the range of porosities available for Nitinol foam manufacture.
---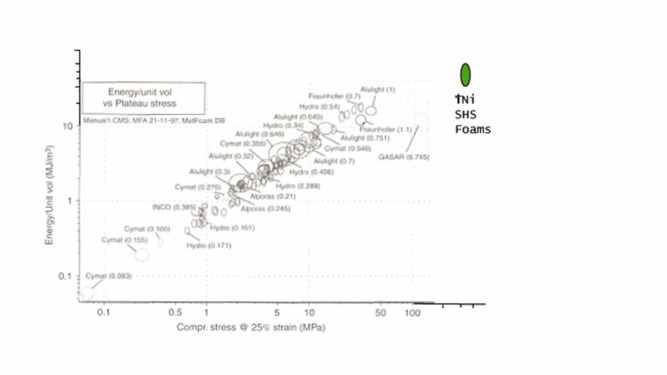 SHS Nitinol Foams outperform other metal foams both in terms of energy absorbed per unit weight and energy absorbed per unit mass.

Ashby et al Metal Foams, Butterworth-Heinemanns (2000)
---
For more information or to discuss your application, please use the contact form or email contact@shapechange.com